Mercadona UPF-BSM Circular Economy Chair

There is widespread concern about the environment. However, it is hard to translate this concern into a real change in habits that helps remedy the deterioration in our planet's environmental conditions.
Through the Mercadona UPF-BSM Circular Economy Chair we propose to deepen knowledge of the circular economy, focussing especially on the food and agriculture industry and the distribution sector, to contribute to articulating a response to the environmental challenge.
We are doing so with Mercadona, one of the main physical and online supermarket chains. Its long-standing real commitment to caring for the planet, now renewed and reinforced with their 6.25 Strategy for plastic reduction, may have a great impact on their customers, workers, supply chain and society in general.
UPF Barcelona School of Management's aim is to accompany them, from an academic perspective, in the effort to practically implement the necessary changes, through companies but also through personal responsibility, to achieve sustainable development that improves environmental, economic and social quality.
If we want to improve decision-making to implement circular economy projects, it will be necessary to strengthen our analytical capacity in the present moment; we must explore the current potentialities to design a strategy for change.
Only if we have excellent knowledge of where we are and realise what we can do to improve, can we act effectively and with agility and business resilience.
Mercadona UPF-BSM Circular Economy Chair
UPF Barcelona School of Management and the physical and online supermarket Mercadona have created the Mercadona UPF-BSM Circular Economy Chair. The purpose of the chair is to find formulas to take advantage of resource savings arising from the application of circular economy principles.
The chair, which will last three years (2020-2023), will focus on the food and agriculture industry and the distribution sector. During the first year, it will seek to identify the main challenges to improve the incorporation of recycled materials in certain packaging families, as well as their recyclability at the end of their useful life.
The analyses must make it possible to provide robust arguments to encourage responsible debate and extract lessons for strategic decision-making in a field, the circular economy, that seeks rational use of resources and to avoid the generation of waste in production processes, so that raw materials and natural resources can be reincorporated in a material or biological cycle as many times as possible.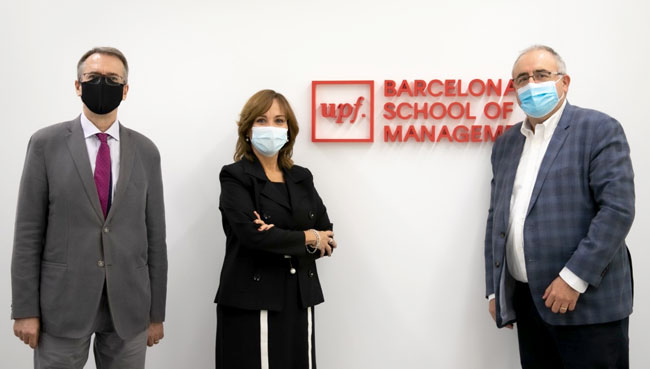 Objectives
To find formulas to take advantage of resource savings.
To provide robust arguments to encourage responsible debate.
To extract lessons for strategic decision-making in the field of the circular economy.
Members
Margarita Muñoz
Director of Social Responsibility at Mercadona.
Adela Torres
Environmental Manager at Mercadona.
Alba Cabañas
Sustainability Strategy Adviser.
Research team
Carolina Luis Bassa
Director of the Chair. Director of the Business and Management Strategy Department at UPF Barcelona School of Management.
Llorenç Bagur
Vice-dean for Faculty at UPF Barcelona School of Management.
José Fernández Cavia
Director of the Communications Department at Pompeu Fabra University (UPF).
Pere Fullana
Director of the UNESCO Life-cycle and Climate Change Chair.
Circular economy: a consensus definition
The circular economy has been discussed by a growing number of economic, academic and social stakeholders over the last ten years. This explosive popularity has made it a real challenge to arrive at a single, consensual definition of the circular economy. In 2017, a group of researchers headed by Julian Kirchherr studied and combined more than a hundred definitions of the circular economy until they arrived at the following one: [The circular economy is] an economic system that replaces the 'end-of-life' concept with reducing, alternatively reusing, recycling and recovering materials in production/distribution and consumption processes. The circular economy operates at the micro level (products, companies, consumers), meso level (eco-industrial parks) and macro level (city, region, nation and beyond), with the aim to accomplish sustainable development, thus simultaneously creating environmental quality, economic prosperity and social equity, to the benefit of current and future generations (Kirchherr et al., 2017).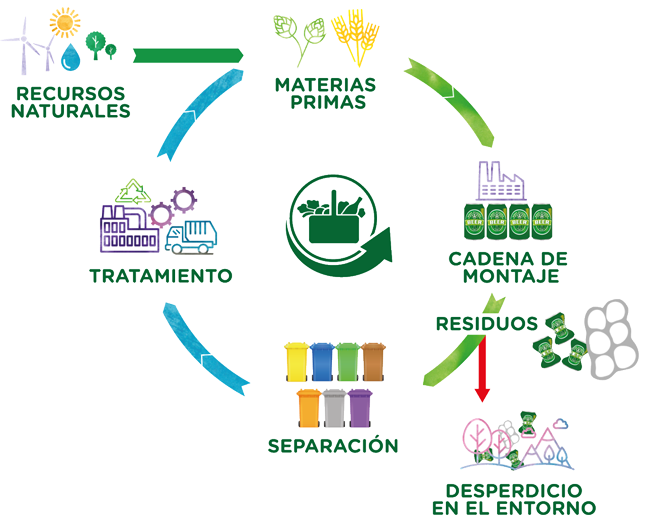 Mercadona: a commitment to Circular Economy principles
Mercadona has proposed to achieve six objectives by 2025: eliminating single-use plastic bags in all sections; eliminating single-use disposable plastic; reducing the plastic it uses in its packaging by 25%; increasing the recyclability of all Mercadona packaging; separation for recycling of all waste from the store, delivery service and online, and, finally, helping the customer (known as "the Boss" at Mercadona) separate at home, stating the correct waste container on each package, so that together we can all prevent waste from becoming a loss of valuable materials.
Its participation in the Chair arises from the company's desire to concretely and effectively progress towards a circular economy, dispelling myths and making the most effective strategies to progress towards packaging sustainability known. For example, as part of more extensive work, based on specifying and clarifying where they add value, determining which procedures should be adopted to ensure that packaging is truly recyclable and recycled.
Mercadona is committed to the circularity of the waste it generates and is willing to invest in this transformation. However, it also wishes to contribute to the rest of the circle being completed, with new models, new technologies or new habits.
To take care of a planet with more than seven billion people, we need a lot of actions.
Billions of actions. "LET'S TAKE CARE OF THE PLANET" is Mercadona's sustainable initiative that says YES TO CONTINUING TO TAKE BETTER CARE OF THE PLANET with action.
News