Students

Alumni: A key part of UPF-BSM's talent ecosystem
Alumni: A key part of UPF-BSM's talent ecosystem
The more than 25,000 alumni are an essential part of UPF Barcelona School of Management's talent ecosystem. Thanks to the academic training and skills they received and their professional careers, alumni are active agents of change in their organizations, in society and in the UPF Barcelona School of Management's own transformation process.
The creation of a network of diverse and heterogeneous talent promotes connections and generates opportunities between UPF Barcelona School of Management alumni through multiple initiatives. Among other proposals, Alumni can play a key role in acting as references and mentors to current students, as well as being in a privileged position to detect and recruit valuable talent for their organizations.
The Alumni programme is built and developed on 4 main pillars:
Knowledge: activities and content to update both academic and cross-cutting knowledge, and keep abreast of the issues and trends with the most global impact.
Skills: sessions and resources to develop the most relevant skill set for any 21st century professional.
Co-creation: proposals to stimulate collaboration between the different agents of UPF Barcelona School of Management.
Community: spaces and opportunities to develop personal and professional relationships.
If you are a former student, connect with the network of professionals who studied at UPF Barcelona School of Management through the new Alumni platform. This will allow you to benefit from staying up to date with knowledge and skills, find and share professional and personal opportunities and have at your disposal a large directory of former colleagues from your specialization and others.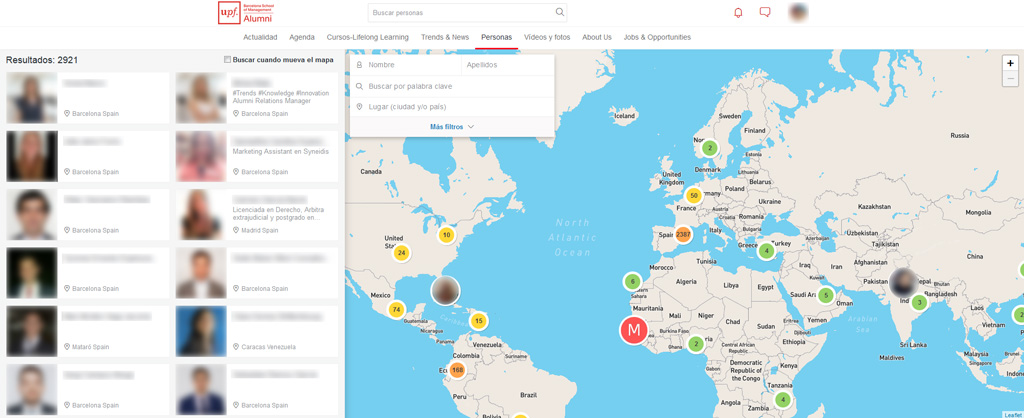 Follow all the Alumni activity at:
More information at:
alumni@bsm.upf.edu
T. (+34) 93 547 58 72