Program curriculum and final degree
Master of Arts in Communication Management
Program curriculum and final degree
Program Curriculum
All participants must study all the core courses, take 7 elective courses from all the courses offered both inside and outside the 2 concentrations and complete the final master's project, which is spread over the three terms.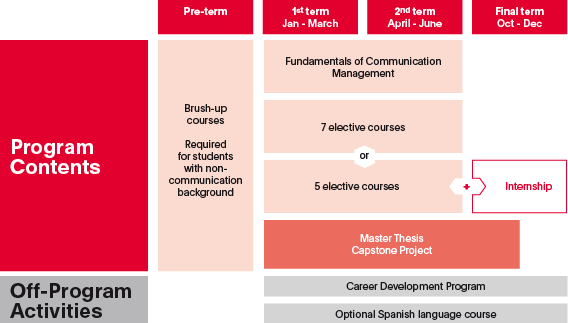 Core courses
Fundamentals of Communications Management
Elective courses
Students must take 7 elective courses among all the courses offered (students can validate 1 internship for 2 electives, in that case, the student must take 5 electives). If the student takes 3 courses inside a specific concentration he or she will receive a specialised mention (Corporate Communications or Social Media Strategies).
Please be aware that subjects will take place if minimum enrolment is met.
Corporate Communications
Social Media Strategies
Other elective courses
The information contained in these documents is for information purposes only and may be subject to change in the adaptations of each academic year. The definitive guide will be available to students enrolled in the virtual space before the start of each subject.
Master's project
Students must complete a Master's Capstone project under the supervision of a faculty advisor. There will be two options: the first option involves an original research carried out by the candidate, leading to the implementation of a research project. The second option involves a practical approach, whereby the candidate performs (for example) an organizational analysis or audit, a communication manual, a case study or the construction of a consulting or communication plan.
All the information about the project is available here.
Additional Off Program Activities
Further to the course's regular classes, all Master of Arts students have the possibility of attending free complementary training parallel to the running of their studies. The following activities are optional and are included in the program's tuition fees:
 *The information contained herein may be subject to changes.
Final Degree
Upon successful completion of the program, the student shall receive the Master's Degree Master of Arts in Communications Management/Máster Universitario en Gestión de la Comunicación awarded by Pompeu Fabra University.