News and events

Communication skills
UPF Barcelona School of Management is Pompeu Fabra University's school of management. It is a multidisciplinary school with an international vocation and offers training based on management as an essential resource to develop any profession. This is not only linked to the business world or senior management roles but also seen as the ability to transform ideas into reality in any knowledge area and professional sector.
What we offer and our training model
The UPF Barcelona School of Management community groups together a wide variety of professional and academic profiles among our lecturers and students. This is one of our greatest assets and a differentiating value in the training we offer. Making the most of this wealth of experience and creating unexpected connections to awaken transforming solutions is part of our mission, together with our desire to transform society and the planet with critical thought and social-mindedness.
The education offered by UPF Barcelona School of Management is structured in the following knowledge areas:
Since 2014, UPF Barcelona School of Management has introduced a new educational model in its training programs in accordance with its mission. It is a personalised project-focused learning model based on an interdisciplinary, practical and collaborative focus that adapts to current professional needs. It is a training offer that reorients how students and professionals are trained.
Find out more:
Our educational model
Our history
UPF and UPF Barcelona School of Management in rankings
Where we are
Our school is strategically located in the Eixample district at the intersection of Balmes with Rosselló, i.e. in the heart of Barcelona. This district, which is geometrically constructed in a grid pattern, is the financial and economic centre of the city and many monuments and places of interest can be found there.
Our exact address is C / Balmes 132-134 de Barcelona
Photo gallery
The following corporate images may be freely used by the media. Please contact us if you need a higher resolution.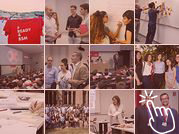 Logos
You can use the following links to download the various versions of our logo. It is prohibited to modify the logo. If you have any questions, please contact us.



If you cannot find what you are looking for, please send an e-mail to our communication team.