Who will your classmates be?
Master of Science in Management (specialization in Business Analytics)
Who will your classmates be?
Student Profile

Academic Background

Geographical Origin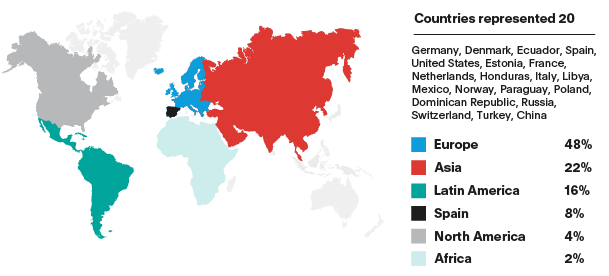 Data collected from the 2019/2020 class.
Our students' experience
WOUTER DRAIJER
2018/2019
Netherlands
I choose the MSc in Management (specialization in Entrepreneurship) because I was searching for a program that was including all the in & outs about controlling a business, analyzing business opportunities and spot chances.
I never knew how much possibilities there were to control or influence your tax payments. There are so many issues that can help a company perform better in the short- and long-run! Besides this I learned a start-up idea can look amazing but what is the most important is what others (your potential customer) think of it.
I did not use the Career Development Program due to my entrepreneur spirit, but I know that others did with success. It's a service very useful if you're searching for a job that is related to your study.
The campus, library, study places, opening hours and location are perfect, and Barcelona… Just amazing! You will never ever get bored in this city!
YAMEN PAN
2017/2018
China
I realize that the MSc in Management (specialization in Marketing) not only allowed me to become more competitive and knowledgeable but it was also a great chance of improving my critical thinking skill and reduce the probability of being subject to the "focusing illusion".
My experience at UPF Barcelona School of Management - Pompeu Fabra university has been quite optimistic and even better than I expected. Needless to say, it's been a year of hard work and time dedication for the projects, exams and final thesis. In overall, despite being an intensive year, I think it is worthy to invest myself on it.
EDA KAHVECI
2015/2016
Turkey
After doing my MSc in Management I can significantly see that my soft skills (presentation skills, negotiation ability…) have improved a lot. I learned deeply about sector analysis, market approaches and give correct decisions in business life.
I have solved many of my doubts about creating CV and searching jobs by the help of the Career Development Program and I was able start my spanish journey with the course that UPF Barcelona School of Management provided.
I have met and knew new cultures in UPF Barcelona School of Management and as a startup hub, I learned so many entrepreneurship ideas from the city.