About us

International experience
UPF Barcelona School of Management contributes to Pompeu Fabra University's international dimension, offering masters postgraduates and courses, not just in Barcelona but worldwide. Through delegates, chapters and advisory councils we seek out potential educational needs that are specifically tailored to the region and thus establish ourselves in local social and business networks.
International Programs: As a student on one of these programs you will have the opportunity to obtain a UPF degree abroad. Thanks to our international agreements you can study a double degree with internationally renowned universities.
Custom educational programs: We provide businesses and public administrations with an opportunity to develop in-company training programs with UPF's highly-qualified team of professionals and teaching staff.
Always open to establishing new cooperation links, UPF Barcelona School of Management carries out its international activity in collaboration with educational institutions, public administrations and companies in other countries. Request information by sending an e-mail to international@bsm.upf.edu.
Student nationalities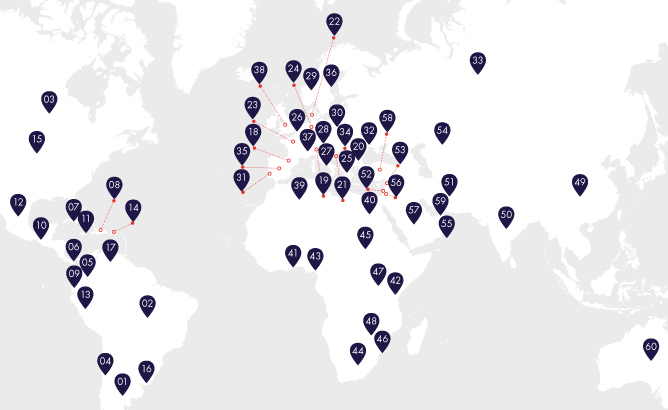 AMERICA

01 Argentina
02 Brazil
03 Canada
04 Chile
05 Colombia
06 Costa Rica
07 Cuba
08 Dominican Rep.
09 Ecuador
10 Guatemala
11 Jamaica
12 Mexico
13 Peru
14 Puerto Rico
15 U.S.
16 Uruguay
17 Venezuela

EUROPE

18 Andorra
19 Austria
20 Britain
21 Bulgaria
22 Croatia
23 Denmark
24 France
25 Germany
26 Greece
27 Holland
28 Italy
29 Liechtenstein
30 Norway
31 Poland
32 Portugal
33 Romania
34 Russia
35 Serbia and Montenegro
36 Spain
37 Sweden
38 Switzerland

AFRICA

39 Argelia
40 Egypt
41 Ghana
42 Kenya
43 Nigeria
44 South Africa
45 Sudan
46 Swaziland
47 Uganda
48 Zimbabwe

ASIA

49 China
50 India
51 Iran
52 Israel
53 Jordan
54 Kazakhstan
55 Oman
56 Palestine
57 Saudi Arabia
55 Turkey
59 united Arab Emirates

OCEANIA