Master of Arts in Communication Management
Master of Arts in Communication Management
keyfacts
End of classes:
16 July 2022 (to be confirmed)
End of program:
15 September 2022 (to be confirmed)
Class times:
Monday to Friday, Full-time. Classes will be scheduled between 10am and 5pm. Class times may change according to the elective courses chosen.
Stay ahead and obtain a 5% discount applying now (more information here)
The Master of Arts in Communication Management is a program jointly offered by the UPF Department of Communication and UPF Barcelona School of Management.
Internationally oriented and with a hands-on approach, the program provides the tools and the skills required to plan, develop and implement communication strategies adapted to different cultural and socio-political environments. 
Students will learn the fundamental concepts, theories, and methods related to communication, while gaining knowledge about new trends and forms of corporate and digital communication strategies.
The MA in Communication Management benefits from the outstanding, hand-selected faculty of the UPF's world-famous Department of Communication. The UPF is among the world's 100 best universities in linguistics and communications. Based on this distinction the program's main feature is the rigorous learning of communication management techniques along with the practical experiences provided by industry professionals.
>
Why this program?
Excellent teaching staff. You will learn from the faculty of the UPF's Department of Communication and a unique selection of experienced communication and branding professionals.
Full immersion into Communication. The program subjects combine theory and practice providing you a global vision about communication and branding. You will work on real case studies and develop a final capstone project focused on a practical approach or on an original topic research.
Customization. The program allows you to fit the contents according to your needs by selecting different elective courses, offering you the possibility to choose a concentration in Corporate Communication or in Social Media Strategies.
Connection with the professional world. The master includes the option to do a curricular or extracurrirular internship, providing you a relevant work experience.
International environment. You will study with students coming from diverse backgrounds and different countries from all over the world (92% of the students come from abroad).
Program accredited by: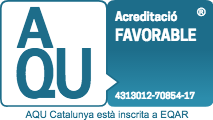 Objectives
To plan and implement communications strategies recognizing the nature, operation and management of modern corporations, using both written and oral skills to articulate key communication theories.
To approach communication issues being able to develop a correct data-gathering methodology, interpret the data and make appropriate problem-solving decisions.
To assess and measure effects of communication strategies being be able to adapt and modify them based on experience over time.
To gain knowledge about new forms of digital communication strategies to be ready to work in a complex and ever-evolving environment.
Who is it for?
The Master of Arts in Communication Management is aimed at recent graduates and junior professionals of diverse backgrounds who are especially interested in the areas of corporate communications and social media strategies.
Find out what you're going to learn!