Who will your classmates be?
Master of Science in International Business
Who will your classmates be?
Student Profile

Academic Background

Geographical Origin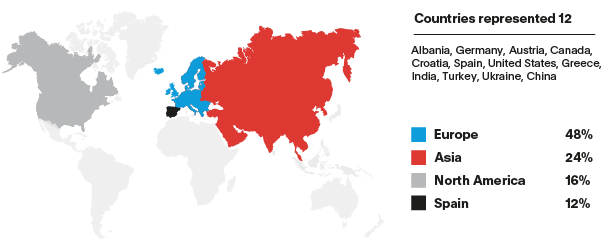 Data from the 2019/2020 class.
Our student's experience
HASSAN GHOSN
2016/2017
Venezuela
I searched a lot for a "Perfect" program that can match my curiosity of knowing more and I have found all what I need in the MSc in International Business.
As expected: Analyzing the international markets, boost my research tools, understand the world of logistics, learn from the international ambiance in the class.
Unexpected: Perfectly understanding the economics and its policies, Financial analysis, political effects and acquiring a lot of general knowledge.
In addition to this, I found a dream job thanks to the Careers Service. They were very supportive!
LORENZO RICCHETTI
2016/2017
Italy
I was looking for a Master that offers high levels of preparation in a real international environment. The possibility of studying and working with a selected group of people helped me to live the Master not only like an academic achievement but also like a life experience.
The Master of Science in International Business helped me to enlarge my vision and to approach also in a more practical way the solution of the challenges we faced. One of the strongest plus of the program is the diversity and the spirit of inclusion that all the activities and interaction stimulate.
My year at UPF Barcelona School of Management – Pompeu Fabra Univesity was overall exciting, dynamic and unpredictable.