The objective of the CFA Research Challenge contest is to promote best practices among future investment analysts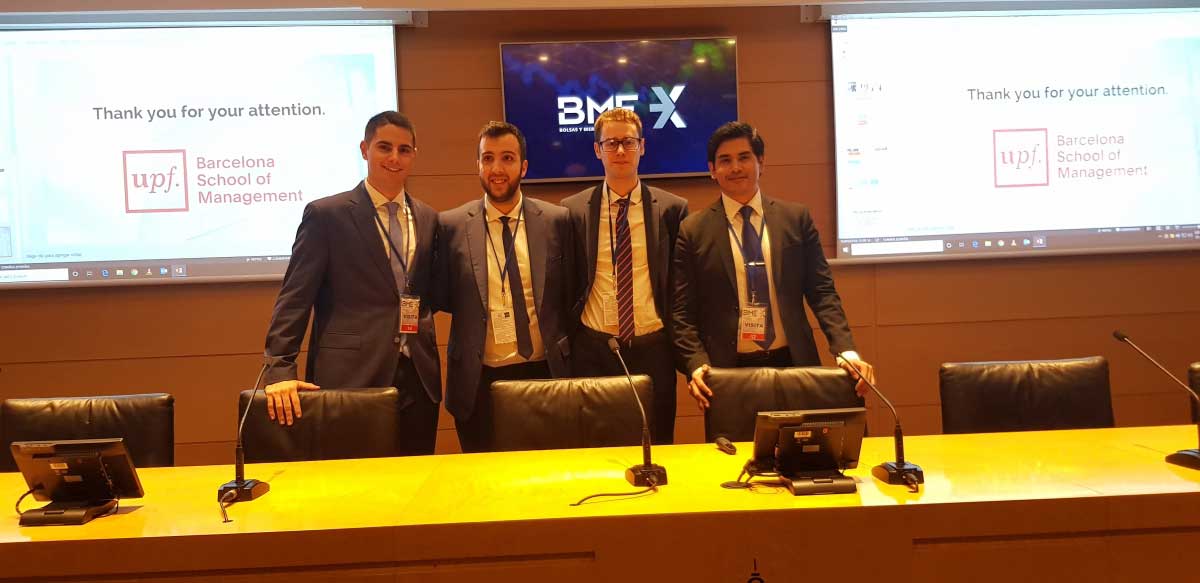 Who performs the best financial analysis and anticipates and projects the best solutions? This is what universities and business schools compete in the international CFA Research Challenge, organized by the CFA Institute in collaboration with Spanish Stock Exchange and Markets (BME). The contest seeks to identify the best students stock market analysis students in Spain. A total of 18 teams from 11 universities and business schools participated in the contest. All of them have to be undergraduate or postgraduate students who cannot count be in possession of the CFA charterholders accreditation or have more than 6 months of experience in value analysis. Five groups have made it to the final: Esade-Business School, IE Business School, Cunef, Eada and the UPF Barcelona School of Management.
The UPF Barcelona School of Management team was composed by Miguel Fernández-Ramos, Miguel Angel Villagómez, Marc Macià and Patricio Palomares Pérez, students of the Master in Financial Markets led by Xavier Brun and Xavier Freixas. They made an excellent presentation. "We have learned a lot with this experience, it has been great to be able to compete at this level and present our assessment to the Repsol board and the CFA Institute. We are very happy and very satisfied with the result."
It is the first time that UPF Barcelona School of Management participates in this competition. We are convinced that in the next editions we will be able to reach the European final and the global final in New York.
The objective of the CFA Research Challenge contest is to promote best practices among future investment analysts