Master of Science in Marketing
Master of Science in Marketing
keyfacts
End of classes:
30 June 2022 (to be confirmed)
End of program:
15 September 2022 (to be confirmed)
Class times:
From Monday to Friday from 1 to 8 pm (Class times may change due to academic requirements)
Stay ahead and obtain a 5% discount applying now (more information here)
The MSc in Marketing is a program jointly offered between the UPF Department of Economics and Business and UPF Barcelona School of Management.
The program provides students the technical and creative skills needed to understand how to satisfy customer needs from a strategic, managerial and empirical perspective. Students will acquire a full understanding of the important processes involved in creating, communicating and delivering value to customers while strengthening their ability to face and solve complex challenges in an increasingly globalized marketing environment.
Practically focused and internationally oriented, this MSc includes a curricular internship and it allows students to choose their preferred elective courses according to their career plans.
The MSc in Marketing benefits from the outstanding faculty of UPF's world ranked Department of Economics and Business. The program's faculty is known for their scientific approach, their constant contribution creating knowledge and their proven ability to stimulate and convey knowledge.
>
Why this program?
Excellent teaching staff. You will learn from the faculty of the UPF's Department of Economics and Business, and from experienced marketing professionals.
Analytical approach. You will acquire the knowledge to integrate consumer analysis with industry analysis using the most up-to-date analytical tools to make decisions about the different elements of the brand strategy and marketing mix.
Strategic mindset. You will master and put into practice the latest cutting-edge tools and techniques used in marketing management, trends research and analytics to define and plan a marketing management strategy.
Management and communication skills. The program will provide you with the skills needed to manage, communicate and negotiate in the field of marketing management.
Connection with the professional world. The MSc requires you to complete a curricular internship, which provides a relevant work experience in the fields of brand consulting, communication management, digital marketing and marketing research, among others.
Program accredited by: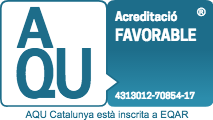 Objectives
To understand the latest marketing trends and techniques from an analytical approach.
To recognize the practical and theoretical tools for choosing markets, anticipating and identifying consumers' needs to plan an innovative marketing management strategy.
To obtain knowledge of the techniques and skills that are effective regardless of a company's level of resources.
To learn how to manage a company's marketing, whether it is an SME, NGO, mass-market or services company.
To develop skills such as business creativity, leadership, team collaboration and corporate commitment in the field of marketing management.
Who is it for?
The course is aimed at university graduates with strong quantitative and analytical skills, with previous studies preferably in the following fields:
Economics
Statistics
Communication
Public Administration
Business Administration
Other degrees if the candidate has at least 2 years of marketing-related experience
Find out what you're going to learn