Program curriculum and final degree
Master of Science in Marketing
Program curriculum and final degree
Program Curriculum
The MSc in Marketing contents are spaced along 3 terms in 4 core modules: Strategic Marketing Planning, Consumer Insights: Market Research, Brand Management and Communication Management.
During the third term students will be able to choose their elective courses. Students will also prepare and present their MSc thesis, supervised by a specialized faculty member throughout the year.
During the third term or at the end of the Master students will do a curricular internship in companies. Career development sessions will be offered to aid students in finding the placement and prepare them for their professional future.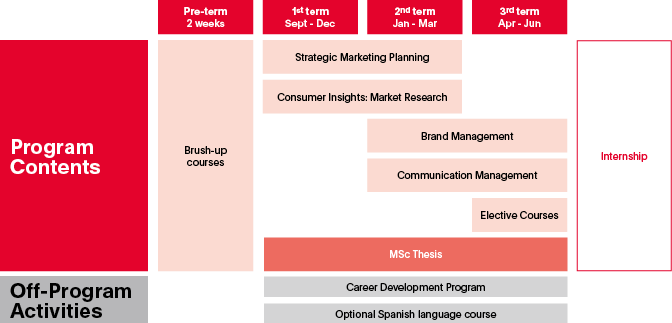 Strategic Marketing Planning
Consumer Insights: Market Research
Brand Management
Communication Management
Internship
Note: The program contents are under review. Adjustments could be applied for September 2021 edition.
The information contained in these documents is for information purposes only and may be subject to change in the adaptations of each academic year.
The definitive guide will be available to students enrolled in the virtual space before the start of each subject.
Additional Off-Program Activities
Further to the course's regular classes, all Master of Science students have the possibility of attending free complementary training parallel to the running of their studies. The following activities are optional and are included in the program's tuition fees:
Final Degree
Once students have completed the course they will receive the official Master's Degree Máster Universitario en Marqueting / M.Sc. in Marketing awarded by Pompeu Fabra University.
Students will also receive an additional Master of Science in Marketing completion certificate awarded by UPF Barcelona School of Management.
Official Master's Degree: Upon successfully completing the master's program you will receive a final diploma awarded by Pompeu Fabra University. In order to issue the certificate, the Government of Catalonia charges an additional fee of approximately €200. The exact amount varies annually and will be finalized upon completion of the degree. In accordance with the regulations set out by the Spanish Ministry of Education this final diploma will be issued in Spanish.