Program curriculum and final degree
Master of Science in Finance and Banking
Program curriculum and final degree
Program Curriculum
The MSc in Finance and Banking contents are spaced along 3 terms: Essentials, Finance and Banking courses are compulsory while students will be able to choose 4 out of the 7 groups of elective courses.
A presentation of elective courses will take place at the end of the first term so that students can get a better understanding of their choices. Students will also prepare and present the MSc thesis, supervised by a specialized faculty member throughout the year.
At the end of the MSc students will undertake a curricular internship. A course to connect with the industry as well as some career development sessions will be offered to aid students in finding placement and prepare them for their professional future.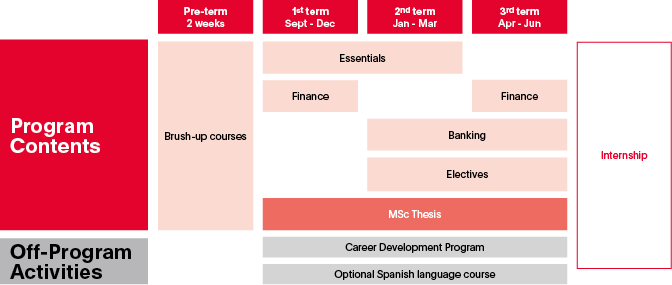 *Program content in revision
Essentials
Finance courses
Banking courses
Elective courses
Corporate Valuation
Mergers, Acquisitions and Reorganizations
Banking and Market Regulation

Entrepreneurial Finance and Venture Capital 
Emerging Topics and New Challenges in Banking and Finance


Crowfunding
Cryptocurrencies

Bank Accounting and Governance


Practical Data Science for Finance


MSc Thesis
Students will also prepare and present a master thesis (an academic project, a corporate valuation or financial plan), supervised by a specialized faculty member. Through the year, there will also be a master thesis accompanying course, supervised by the master thesis coordinator.
Internship
During the academic year, students will also undertake a credited (full-time or part-time) professional intership (for more information, click here). 
Job Discovery Workshop
These sessions, scheduled at the beginning of the academic year, go over different types of finance positions, both on an international level and within the Spanish ecosystem. They give students insights into the different career options available, the typical daily tasks for each, and the long term path of each.
Connecting with the Industry
This course shows the real-life, practical side that happens in finance positions. The course sessions will mostly be carried out with guest speakers and real life cases that they worked in. The students will have a chance to prepare and present in the class what they think is the best response to the situation posed in the case study, and afterward the guest speaker will explain what really happened and how they approached the situation in real life.
Some of the guest speakers in this course include:
Xavier Brun, Manager of 5 Sicav global equities and fixed income at Solventis AV
Marc Murtra, Partner at Crea Inversiones M&A Boutique
Xavier Serradesanferm, Financial Controller at Mango fashion producer and retailer
Santiago Pieren Salazar, Director of Financial Crime at PwC
Elisenda Monforte Vila, Partner of Global Transfer Pricing Services at KPMG
Silvia Collado, Director of AZ Capital Investment Bank
Ethical and Professional Standards
This short course shall discuss ethics, the role of a code of ethics in defining a profession, and the importance of ethics in the finance profession. The course also covers the practical application of an ethic code and standards of professional conduct. The course prescribes methodology and standards that are consistent with clear and honest presentations of results.
Note: The program contents are under review. New modules and subjects could be added for September 2021 edition.
All the information contained in these documents is for information purposes only and may be subject to change in the adaptations of each academic year.
The definitive guide will be available to students enrolled in the virtual space before the start of each subject.
QTEM Program
After successfully completing the master's program students have the opportunity to do an extension of their master by participating in the QTEM Program, an optional study abroad experience at more than 20 top international universities leaders in the field of Economics. UPF Barcelona School of Management is the first institution in Spain part of the QTEM Network.
Additional Off-Program Activities
Further to the course's regular classes, all Master of Science students have the possibility of attending free complementary training parallel to the running of their programs. The following activities are optional and are included in the program's tuition fees:
Brush-up Courses: online preparatory crash-courses on business and economy-related subjects which take place two weeks prior to the beginning of the program.
Spanish Course: free of charge during the first term. 3 hours/week course at the UPF's language school.
Career Development Program: career sessions and workshops where students obtain specific training on how to improve their CV, approach potential employers and develop professional soft skills. Read more at Employment Opportunities.
Final Degree
Once students have completed the course they will receive the official Master's Degree Máster Universitario en Finanzas Corporativas y Banca / M.Sc. in Corporate Finance and Banking awarded by Pompeu Fabra University.
Students will also receive an additional Master of Science in Finance and Banking completion certificate awarded by UPF Barcelona School of Management.
Official Master's Degree: Upon successfully completing the master's program you will receive a final diploma awarded by Pompeu Fabra University. In order to issue the certificate, the Government of Catalonia charges an additional fee of approximately €200. The exact amount varies annually and will be finalized upon completion of the degree. In accordance with the regulations set out by the Spanish Ministry of Education this final diploma will be issued in Spanish.