Who will your classmates be?
Master of Science in Finance and Banking
Who will your classmates be?
Student Profile

Academic Background

Geographical Origin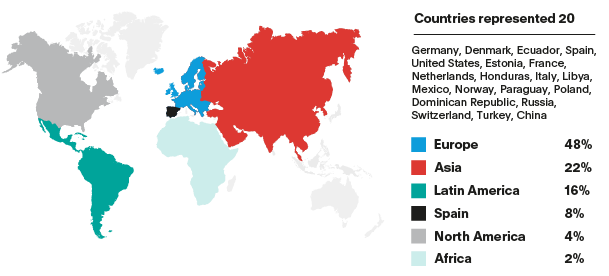 Data collected from the 2019/2020 class.
Our students' experience
PAULA VALERO
2018/2019
Spain
I always heard incredible positive things about UPF, and since I did my Bachelor's degree in the UK I thought it would be a good idea to continue expanding my academic formation and development in Spain.
The program gives you multiple options in terms of module section which allows each student to decide their own learning path. I came to UPF with extremely basic finance concepts and my learning curve has risen in the past months. One thing I will mainly highlight from the Master, is the focus on communication skills by acquiring the ability to speak accurately and confidently in public and deliver high-quality presentations.
Overall, My experience was unique - I, also, never thought there would be so much diversity, in terms of student background and culture, concentrated in a single room. As a general small class, we managed to learn and grow in an extremely friendly environment and support each other in our journey.
JI QI
2018/2019
China
Choosing the MSc in Finance and Banking was a very hard decision but finally it has been a very worthy experience.
The courses in which we worked on practical cases of valuation were most useful, I never did real valuations before. The talks with finance professionals brought us closer to the reality of the workplace in this industry and the discussions in class gave me many ideas and new perspectives from a variety of international backgrounds.
I sincerely thank all the Career Services staff for making all the activities possible. The kindness and willingness to help of these people were essential to this program and made me feel more confident about my professional choices.
My year at UPF Barcelona School of Management – Pompeu Fabra University was thoroughly enjoyable. More useful and eye-opening than four years of undergraduate degree together.