Postgraduate Course in Coaching
Postgraduate Course in Coaching
keyfacts
Start of classes:
15 October 2021 (to be confirmed)
End of program:
03 June 2022 (to be confirmed)
The Postgraduate Course in Coaching at UPF Barcelona School of Management (in Spanish) will equip you with the basic and advanced knowledge and resources needed to work as a professional coach. The course encompasses both life coaching and professional coaching within any type of company.
The Postgraduate Course in Coaching touching on the essential principles of this growing discipline, from personal, social and business perspectives. Through practical exercises, you will learn attitudinal and motivational techniques, how to face and overcome challenges and how to reinforce your personal skills in any environment or situation: work (mainly), family, health, personal relationships, etc. The program is aimed at anyone who wishes to specialize in this field.
You can choose how to finance your studies between 3 and 59 months by consulting our simulator and receive an answer in less than 24 hours. You can also check the special bank loans available to participants in the UPF Barcelona School of Management.

>
Why this program?
Because of the high satisfaction rate: 98% of course graduates would recommend it.
Because it is one of the few coaching courses in the area that leads to a regulated university qualification, which is backed up by Pompeu Fabra University's prestige and teaching quality.
Because it is one of the few European programmes validated for two professional associations (ICF and AECOP).
Because you will receive a truly comprehensive introduction to the discipline: you will not only address business coaching but also acquire the basics needed to become a life coach.
For its clear professional focus: the academic contents are delivered in a practical way, and are continuously adapted to the new trends in this expanding discipline.
Objectives
The Postgraduate Programme in Coaching (DCEP) is focused not only on transferring information, but also on generating new ways of being and of acting. Apart from providing tools, the intention is to train professionals capable of using them.
The specific objectives of the programme are:
Train coaching professionals, with an advanced conceptual and practical basis.
Incorporate an efficient structure enabling professional coaching processes to be carried out.
Encourage interiorising and control of coaching tools through practicals and access to quality feedback.
Analyse in depth keys aspects of people and the development of communication, analytical and emotional skills.
Prepare experts in training and personal growth.
Identify and adopt other disciplines employing tools coinciding with those used in coaching.
Generate among participants a learning community maintained over time. Development of the programme as a professional reference point.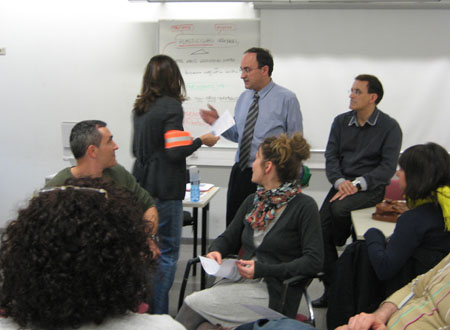 Who is it for?
Holders of university degrees and diplomas.
Management personnel and/or in a position of authority over Public Administration staff.
Sales, stratgic or management personnel, from human resources and operations departments at companies, institutions and public organisations.
Employers or managers wishing to incorporate coaching resources and skills to positively encourage the development of their employees, their organisation and the level of business or activity.
People wishing to make coaching their career or broaden the services they offer (trainers, consultants, therapists, healthcare workers, etc.).
People wishing to incorporate coaching references to improve their personal relations and human development.