Students of the Master in Political and Institutional Communication visit several key political institutions
This academic year, the Master in Political and Institutional Communication (MCPI) at UPF Barcelona School of Management-UPF has again worked with its students from inside the main institutions on the role of strategists and communicators in public institutions. Thanks to the master's program, our students were able to visit the institutions in Brussels and meet Jaume Duch, the Director General of Communication and Spokesperson of the European Parliament, among others.
Also, in Madrid, Rosario Rodríguez, the Head of Press at the Chamber of Deputies, gave a class to the students in situ. They visited the institution's pressroom, the inside of the Chamber of Deputies and the room where the institution's channel is produced, and interacted with its president, Ana Pastor. In order to contrast this institutional vision with other actors that interact with their representatives, the students had also a session at Llorente y Cuenca, given by Aintzane Conesa, among other professionals from this leading Spanish public affairs consultancy. In the evening, there was an after-work event with 4 young consultants, including three key team members of three ministries (Presidency, Justice and Public Administration) and the Ciudadanos political party's Director of Communication, Marc Berruezo.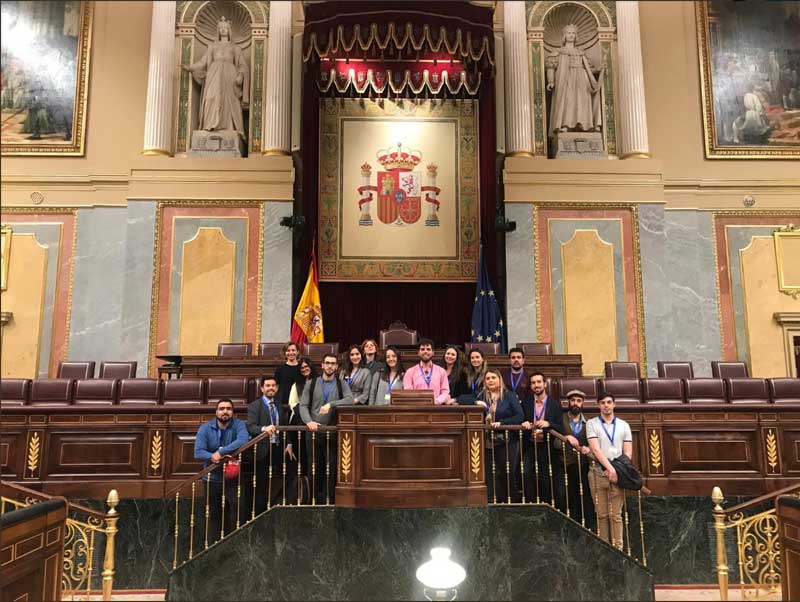 A few weeks earlier, Josep Escudé, Director of Communication at the Parliament of Catalonia did something similar with the students, showing them the places where communication and strategy professionals work in representative institutions such as this one. In the Parliament, the students were able to contrast Escudé's vision and explanations with those given by the spin doctors and the speechwriter of the chamber's vice-president, the coordinator of advisers for the main political grouping with a governing majority, and the director of communication of one of the largest parties in this legislature.